Tropical Storm Bonnie
was a fairly weak but unusually long-lived tropical cyclone that brought heavy rains to the Southeastern United States in late May and early June 2016. The second named storm of the
2016 Atlantic hurricane season
, Bonnie peaked as a weak tropical storm with maximum sustained winds of 45 mph and a minimum pressure of 1006 millibars. Bonnie was the first storm of many to impact the United States during the 2016 season; other storms that impacted the U.S. included Colin, Hermine, Julia, and Matthew.
Meteorological History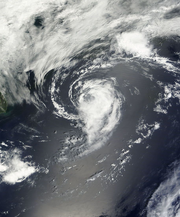 On May 24, the National Hurricane Center noted the possibility of tropical or subtropical development in the western Atlantic, northwest of the Bahamas. The next day, this system was designated Invest 91L. By May 27, the system began to organize, with the development of deep convection slightly away from the center. At 18:00 UTC that day, after a reconnaissance aircraft confirmed the presence of a closed circulation, Tropical Depression Two developed. 18 hours later, the depression strengthened into Tropical Storm Bonnie, peaking as a 45 mph tropical storm late on May 28. Before landfall, strong wind shear weakened Bonnie, exposing its circulation. Early on May 29, Bonnie made landfall in South Carolina near the Isle of Palms as a tropical depression. On May 30, Bonnie degenerated into a remnant low.
The remnant low emerged into the Atlantic the next day, and by June 1, despite light winds located inside the system, it began to improve in organization. Somewhat unexpectedly, the remnant low regenerated into Tropical Depression Bonnie at 00:00 UTC June 2, while it was located near the northeastern North Carolina coast. Bonnie regained tropical storm status at 12:00 UTC June 3 based on data from an ASCAT pass and Dvorak estimates, but weakened below this status the next day. Bonnie then degenerated into a remnant low once more at 00:00 UTC on June 5, after the cyclone had become devoid of deep convection. The remnant low eventually dissipated a few days later.